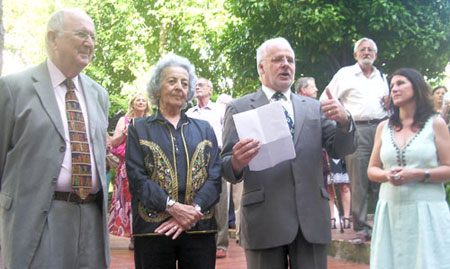 Authors Sam Benady and Mary Chiappe, Minister Edwin Reyes and Jennifer Ballantine Perera.
Calpe Press publishing house was launched on Friday with its first publication 'The Murder in Whirligig Lane' by Sam Benady and Mary Chiappe. Culture Minister Edwin Reyes, emphasised it was a pleasure for him to support Jennifer Ballantine, the founder of Calpe Press, in her new venture especially alongside Sam Benady and Mary Chiappe whom he described as two living institutional figures on the Rock Gibraltar.
"They have come together and formed a team and put their thoughts on to paper together to produce this historical novel," he said launching the book and the publishing house.
Having had an advance copy of the book he added how he had been intrigued by it, especially the references to Gibraltar and its "Gibraltarian flavour".
Acknowledging Jennifer Ballantine Perera's idea to promote local literature, he said, "she has great ideas: novels, works of fiction, non-fiction, printing books that have gone out of print. I have a vested interest of course as Minister for Culture. By working together we are going to promote literature, we are going to promote historical records."
The Murder in Whirligig Lane is now available in all local bookshops and is the first historical detective novel based in Gibraltar.