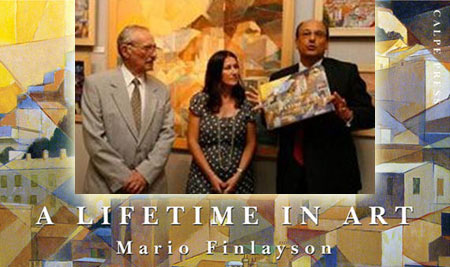 T
he artistic community, friends and family all turned out for the launch of the book 'A Lifetime in Art' celebrating the life and work of the doyen of Gibraltar art Mario Finlayson. A packed gathering at the Gibraltar Fine Art Gallery showed its appreciation of the artist who was moved close to tears as he paused before thanking the Chief Minister for his kind words and the many friends who were there to support him – a man who has been active in this community for more than 65 years. They showed their appreciation too by giving him a long-sustained ovation as they applauded him and his work after he described the occasion "as a great moment in his life".
Launching the book Chief Minister Peter Caruana sang his praises saying he was a man greatly admired by the community as a whole, and how this book recorded for prosperity, a fact that most people already accepted that when the history of Gibraltar's art is written Mario Finlayson would have a prominent place in it. The book a limited numbered edition is published by Calpe Press and sponsored by the Bonita Trust with 350 colour pages of coffee table size offering a retrospective of his work and an insight into the mind of this artist who recently turned 84. Peter Caruana's words describing Mario as the doyen of all artists in Gibraltar was received by applause and cheers of "bravo" in the gallery where some of his paintings from different time frames will hang for the next week.
"In Gibraltar we are blessed with many fine, committed, interested and skilful artists and we are very fortunate that Mario has probably had a hand in teaching or guiding, or somehow touching with influence most of them during the extraordinary 60 years that he has been involved with art in Gibraltar, either as a teacher or as an artist himself," he emphasised. Mr Caruana commented that very few people dedicated themselves to any endeavour in life for as long as he had. It was a great credit to him that he had done so "expertly and successfully and for so long". Mario, he added, was a prime example of "the extraordinary capacity of this small place to generate such expertise, and to generate people with such skill, in so many art forms as we do so in Gibraltar."
Describing the book as "a weighty tone", the Chief Minister commented, it was not just an inventory of Mario's art but it was also the story of his life – "a journey through his life and artistic development, an extraordinary record of a very long, successful, distinguished life, as an artist in Gibraltar".